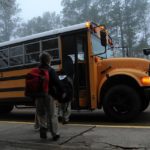 This fall marks the first year I did not return to school. No, I'm not skipping class! I graduated from the University of Wisconsin-Milwaukee in December of 2017 with bachelor's degrees in marketing and creative writing.
Even though classes have been in session without me for over a month now, I'm still not used to spending my time off campus as the leaves turn and the breezes cool. It's like I am on some surreal autumn vacation.
That's not to say I'm unable to keep myself plenty busy! Since my graduation, I have worked at Northwestern Publishing House as their advertising and marketing copywriter and at WELS Center for Mission and Ministry as a staff writer.
Especially when considering that I have never attended a parochial school, I am thrilled to be using my academic achievements and credentials to serve God and his people. It has been both uniquely challenging and uniquely satisfying.
I didn't expect to be working in ministry so directly. While I've always been a regular churchgoer, it somehow never crossed my mind to apply my secular learning in a faith-based work environment. And even after I move on to the next opportunity, I'm sure these experiences and my continued belief will shape all that I write. However I apply myself, I can do it all in the name of my Savior.
As I reflect on the relationship between my school days and present career, that's the one thing that has become clear: when the Word says, "do it all for the glory of God," "all" is not a flowery exaggeration or an unattainable ideal (1 Corinthians 10:31). Doing "all" is entirely possible.
Coincidentally, the confirmation verse I chose nearly ten years ago reads: "I can do all this through him who gives me strength" (Philippians 4:13). How fitting!
That is the message I have for students that have returned to school without me this fall and for their families that help them along the way: no matter your prior experiences or present situation or desired path, God provides us opportunities to serve him and his mission. Don't shy away from those chances, whether they are grand or quaint, because they may be the best decisions you ever make.
May God bless the students and their families in this school year and in every school year that follows.
In Christ,
Dayton Hamann
Advertising and Marketing Copywriter – Northwestern Publishing House
Staff Writer – WELS Center for Mission and Ministry
---
Image credit: E.B. Pilgrim (used under Creative Commons CC0)