At its February meeting, the Conference of Presidents adopted 364 Days of Thanksgiving as the synod's stewardship emphasis for 2016. The stewardship emphasis is based on a book and corresponding Bible study by Pastor Andy Schroer.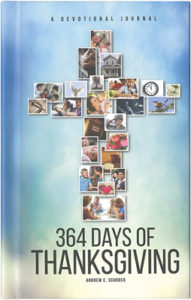 In our world, sin, and the effects of sin, seem to be more "in our face" each day. Our daily interactions and confrontations with the effects of sin can be demoralizing, Daily struggles with our own sinful natures discourage us even more. After a while, fear or negativity can shape with way we think about things.
364 days of Thanksgiving challenges us to think differently. It reminds us that even in this imperfect world, God heaps blessings beyond blessings in our lives. One of the greatest skills we could wish for is the ability to recognize these blessings. 364 Days of Thanksgiving helps develop that skill by taking readers into God's word and aiding them in identifying God's blessings.
The stewardship committee in one congregation decided to use the Bible study and the sermons included in the Bible study kit. The committee also decided to purchase 100 of the books and to encourage the members to purchase them and use them over the course of a year. Something interesting happened when they announced the program to the congregation. Every time an announcement was made about the program, an anonymous donor would step forward and offer a gift to help cover the cost of the books. By the time the program actually began, the final cost of the book for each participant was $3.00. (Regular cost is $12.99.)
The stewardship chairman said, "I don't remember ever sensing this kind of enthusiasm for a stewardship program. How blessed we will be if God uses this to help us see more clearly the good things he has placed into our lives.
We all know deep down that God has richly blessed us. But if we take the time, each day, to count our blessings, we can't help but be filled with overwhelming gratitude."
To learn more about the worship planning resources WELS Ministry of Christian Giving has developed for this program, click here.