Wanted: Women Writers - Wanted: Political Sanity
Greetings from Northwestern Publishing House,
Today I want to share some information about a conference that may interest the women in your congregation, as well as two resources that you may find helpful as our country prepares for another intense election cycle.
God has blessed many of our sisters in Christ with the ability and the desire to communicate through writing. Because they have learned to treasure the gospel, and understand that our relationship with Christ is a result of his work and not our decision or work, the fruit of their labors is a great blessing to the church.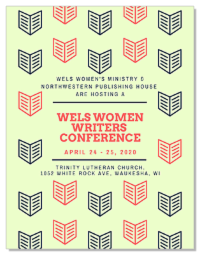 WELS Women's Ministry is partnering with Northwestern Publishing House to host the WELS Women Writers Conference as an opportunity for WELS women with writing interests to grow in their vocations. The conference is being held at Trinity Lutheran Church in Waukesha, Wisconsin, on April 24 and 25. The conference will be of value both for beginning as well as experienced writers.
Since we are confident that those who attend will benefit from the conference, we are asking that you consider passing this information on to the women in your congregation. For detailed information and to register, click here.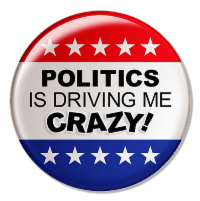 We face another election year with everything it entails. Sometimes Christians express confusion about what their role in the political process can and should be. Two resources may be of value to you as you lead your congregation. One is the popular prayer booklet, God Bless Our Native Land. Its prayers address topics such as honesty and integrity in the political process, the roles of church and state, removal of complacency, the gospel's free course, and courage in times of crisis. Congregations may wish to purchase this booklet in quantity as a gift to each member or for outreach.
NPH just recently published a new Bible study titled Politics Is Driving Me Crazy. In four lessons, former District President Charles Degner helps us view what lies before us with calmness and sanity as we listen to God, who rules over all things. To find out more about the study, click here.
May God bless the work you do as you shepherd the flock that he has placed under your spiritual care.
Because Jesus lives!
Ray Schumacher
Curriculum Product Editor
Northwestern Publishing House