Dear fellow musicians,
Choosing sacred music for children's choir can be challenging. Many publishers turn to texts that touch emotions more than (or instead of) hearts, that speak of social justice rather than gospel-motivated love, or that preach a hope in the potential of self rather than true hope in Christ. Finding music that makes children a rich and meaningful part of the praise and proclamation of God's Word can be like looking for needles in a haystack.
Northwestern Publishing House is addressing this directly. By working with confessional Lutheran poets and composers who have a love for God's Word, the children's music published by NPH is infused with the riches of the gospel and the doctrines of the Christian faith.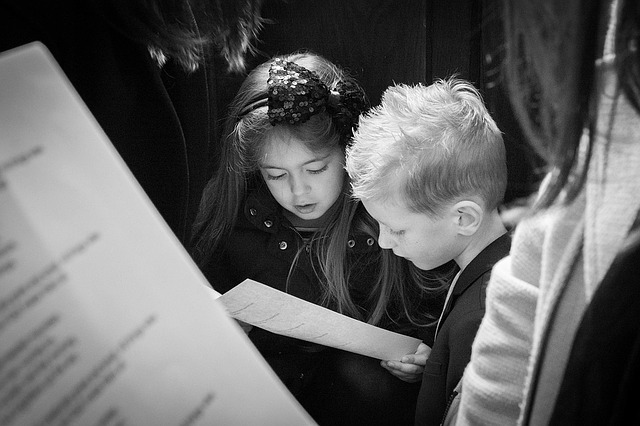 While the content of the text is of highest importance, the excellence of both poetry and musical craft is critical as well. Suitable vocal ranges, memorable melodies, accessible yet artful accompaniments, poetry with economic yet clear language and rich yet understandable concepts—these are all facets that are evaluated when reviewing submissions. NPH strives to publish those that excel in these aspects.
"We Preach Christ Crucified" by Dale Witte (released October 2018) is a concrete example of children's music crafted according to these guiding principles and goals. Based on 1 Corinthians 1:23, Witte has written a simple but meaningful text. Consider the refrain:
We preach Christ crucified, he died for me.
God sacrificed himself for my eternity.
He paid the cost of my sin-filled life.
His resurrection is my victory.
Who is the focus? Jesus. What did he do? Sacrificed himself for me—redeeming me from my life of sin—and then rose from the dead. What does that mean? I have victory over death and life eternal. What do we do? Preach these truths.
Could there be anything more important to sing about? Could there be any stronger text that proclaims God's 100 percent work on my behalf for my 100 percent benefit (and my 0 percent contribution)?
That's what you can expect from NPH children's music: simple yet rich texts that enable children to enjoy a similar privilege as the pastor—proclaiming God's Word—and music that is not only age-appropriate and fun to sing, but that also elevates the text.
Additionally, publishing children's music according to these principles often results in an extra blessing—choral music that works equally well for adult choirs searching for unison or two-part repertoire. It's not the case for every anthem, but it is for many. Don't overlook this beneficial option!
"We Preach Christ Crucified" is available as a flat-fee digital download on www.nph.net. Your purchase includes a reproducible PDF and both MIDI and MP3 accompaniment tracks. Visit the website today to see a sample score, listen to a sample recording, or do both via the score video.
May God bless you as you include children in sharing the Good News to the whole world through the songs they sing.
Serving Christ with you,
Jeremy Bakken
Director of Worship and Sacred Music
Northwestern Publishing House
---
Image credit: Gemma Ray (used under Creative Commons CC0)