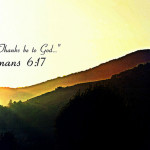 Routines. We all have them. On a normal day, I wake up, have my cup of coffee, and read my Bible. I then go about my daily chores. However, I really wanted today to be different. Today I wanted to thank God . . . for everything.
I began cleaning the entryway. For some reason, this is the catchall room for everything that comes through our door. It was at this time I thanked God that I had a home. I thanked him for the things others left behind that needed to be returned to their proper places because that meant my children and husband had been here. I thanked God for the mud that my children had dragged in because that meant my children had shoes on their feet.
Next was the living room. I folded up the blanket that my daughter had slept with the night before and thanked God that she was warm and that he was giving me the privilege of raising her. I grabbed my vacuum cleaner and unknotted the cord. I thanked God that I had carpet to vacuum; so when the girls had friends over, they could sit comfortably and watch the latest movie on television. I thanked God for the television. But I did ask him to make the programming a little more family friendly.
On to the kitchen. The MESSY kitchen. You see, I had made no­ bake cookies the night before and had left the pan in the sink to soak. I thanked God for the ingredients I was able to use in those cookies, and then I sent a little prayer that those ingredients not end up on my hips! I thanked him for the stove and the refrigerator and the cupboards full of food.
It was time to set the table for break­fast. I thanked God that we gathered here as a family every morning and then again in the evening. I thanked him for the conversations that we all had at these times.
I then moved on to the bathroom. How I HATE to clean the bathroom. However, as I scrubbed the toilet bowl, I thanked God profusely for allowing me to have indoor plumbing so that I didn't have to walk outside in the middle of the night! It made that chore A LOT easier! I thanked him for my being able to scrub a shower that my girls use way too much. I wound up all the cords to the hair dryers and to the curling irons and thanked God that my children love themselves enough to look presentable wherever they go. I grabbed the dirty clothes out of the hamper, collected the mounds of clothes on my children's floors, and placed everything in the laundry room. As I loaded my washer, I thanked God that I didn't have to go to a river, run sandy water through them, and then hang them from a tree. I thanked him for great smelling laundry soap and fabric softener that makes our clothes soft.
As I finished everything else, I thanked God for my four beautiful daughters, my amazing husband, my awesome son-­in-­law, and my two adorable—downright spoiled— grandsons. I thanked God for my church, extended family, friends, and everything else that makes my life complete. I have to say, by focusing on my blessings, the chores were a whole lot easier to complete.
As you walk about today, thank God for all that you see, hear, taste, smell, and touch. It will give you a much brighter perspective on your life.
---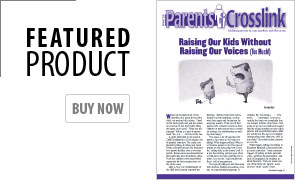 By Jennifer David-Sayles, from Parents Crosslink © 2014 Northwestern Publishing House. All rights reserved.
Jennifer David­-Sayles, a freelance writer, is married to her best friend. She is the mother of four beautiful daughters and grandmother of two amazing grandsons. She resides in Gilford, MI, and is a member of St. Luke in Vassar.
Image credit: "Thanks be to God' Art4TheGlryOfGod Photography by Sharon is licensed under CC BY 2.0.