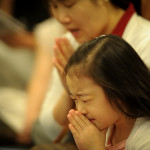 When I offer encouragement to parents who are attending church with young children, I share a little artistic interpretation that I indulged in myself when I was in their shoes. It is my belief that human nature is constant and predictable; it crosses generations. When Jesus said, "Let the little children come to me," he completely understood what he was saying. Sure, the classic artwork depicts perfectly behaved youngsters gathered peacefully around our wonderful Jesus. But I know in my heart that somewhere in that crowd were siblings scuffling over who could sit closer. There was a boy who had found a stick and was pretending it was a galloping horse. Someone was crying. Someone needed to go potty.
Children are not, and have never been, perfect. Jesus did not limit his invitation to well-behaved, clean, quiet children. Jesus, knowing the true nature of children, did direct adults to bring them into his presence. We parents have been commissioned to lead and teach even the youngest children how to be with Jesus, how to worship our loving God.
That commission flavors our own perspective on the worship service. Mindful parenting is hard work. But rather than trying to "get through the service," we can look for ways to teach our children how to be a part of the worship service.
For insight into age-appropriate behavior as it relates to worshiping with toddlers and preschoolers, I've spoken with Cindi Holman, WELS National Coordinator for Early Childhood Ministries. Holman has a master's degree in Early Childhood and 27 years of classroom experience. Just as important, she's a mother and grandmother, who has experienced many a worship service from the back row.
"My heart is with parents. It can be discouraging and exhausting," Holman says about worshiping with young children. "Remember that you are training a young worshiper. You are privileged to teach; you are who God chose for this job."
Although statistics on attention spans vary slightly, according to Holman, we can generally calculate that our young children can focus on one activity for 3 to 5 minutes per year of age. For example, a two-year-old probably can remain attentive to an activity for 6 to 10 minutes before likely wanting a change. "This doesn't mean they can't sit for an hour," Holman explains. "A change could be as simple as moving from the pew to sitting on your lap."
Knowing Holman's calculation for attention spans may help when packing quiet activities and books for a service. Bring things that are novel, rather than the most-used favorites.
Many churches help fully provide a children's bulletin, crayons, or returnable activity bags. Often these bags contain coloring pages and items that subtly connect children to the service theme. "If your church doesn't provide these items, maybe this is your calling; maybe you're the one to start it," Holman encourages. However, shifting your child's focus can still be as simple as following the natural rhythm of the service. Encourage standing and sitting along with the congregation.
Familiarity is important to young children. Holman suggests arriving early to walk around and show them important parts of the worship facility. Visit the baptismal font and tell them what it was like to welcome them into God's family. If your building is blessed with artwork or stained-glass windows, talk about the Bible stories that are represented. Preschoolers love to share their knowledge and often will only need prompting to retell Bible lessons they've learned. My church's Moms' Group once hosted a tour that included playing the organ! Holman suggests, in future services, if your little one needs help holding it together, you can redirect him or her with a soothing game of Can You Find the Statue of Jesus? or Do You See the Bible on the Altar?
Just as toddlers react to familiar nursery songs, they will react to our worship music when it becomes familiar to them. I used to sing parts of our liturgy to my babies at bedtime, along with more typical lullabies. Holman suggests asking your pastor ahead of time for hymn numbers and Bible readings. "A lot of pastors would be thrilled to give parents that in advance," she explains. She encourages using that information in the days leading up to the service, building familiarity, so when the day arrives, you can whisper, "You know this song—sing along!" or, "Listen to Pastor read the story about Jonah and the big fish!"
Holman says that home devotions and family prayers provide more opportunities to teach familiar routines. Try instructing, "We can talk to Jesus. This is how we sit and what we do with our hands."
It may also help to have a routine to prepare for the service. Let children help pack a special bag. Let them choose something special to wear. "These activities also highlight that church is a special place," Holman explains. The more we bring church into our homes, the deeper children will connect with it. It is exciting for them to recognize an item at church that they also have at home, such as an Advent wreath.
Noisy behavior can be minimized by having advance conversations with little ones who typically respond well to being recruited as helpers. Holman suggests explaining that "we need to be quiet in church to make sure we help others hear about Jesus." She recommends stating your expectations in the positive, rather than threatening what will happen if misbehavior occurs.
Sometimes we parents need to remember how sensitive and reactionary our little ones are to our emotions and stress. Holman suggests coming into worship prepared for naughtiness, having realistic expectations. Show up knowing that things may not go as planned, and be ready to calmly work through problems as they arise. Have a plan of action.
When children need to be taken out of a service to address a distraction they are causing, Holman suggests keeping it short. "Use the cry rooms or nurseries wisely," she says. "Tell your child, 'This is a place where we can find our calm and return.'" Remember that the younger children are, the more immediate your response should be to teach them that their behavior has been unacceptable. Holman strongly encourages positive reinforcement of good behavior, using a verbal thank you or praise. For example, "I saw that you worked so hard to stay quiet today! You were so helpful to other people who were learning about Jesus!"
Holman says it is important to "look for things to celebrate." When little ones spontaneously respond to the minister, it is clear that they are listening even when we don't think they are. Holman likens it to the way adults can multi-task. As embarrassing as those moments can feel, Holman would assess, "A toddler singing means she's connecting!" The more preschoolers and kindergarteners are able to read, the more they will be able to participate in a worship service. As children are gaining reading skills, that is a good time to wean them from the other activities. Holman concludes, "It won't last forever; though in the midst, it feels eternal. Our goal as parents is to work ourselves out of a job."
---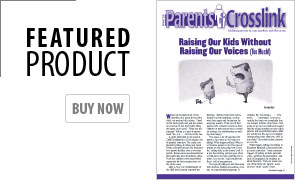 By Laura K. Selenka, from Parents Crosslink © 2014 Northwestern Publishing House. All rights reserved.
Laura Kiecker Selenka is a freelance writer in Oshkosh, Wisconsin, where her family has graduated out of the "Back Pew Club" at Martin Luther but still delights in the joyful noise coming from behind.
Image credit: "Prayer: Mother and Daughter" is licensed under CC BY 2.0.