Talk learners are the opposite learning style of the Research learners.
Talk learners love to rephrase to learn. They desire verbal exchange immediately (hence the name "Talk learner").
They prefer to learn by collaborating with others and being part of a team (or having a study buddy). They prefer studying things that directly affect people's lives, rather than impersonal facts or theories. They also love personal attention and encouragement from instructors. (Many talk learners will get tutors just for this reason alone).
Talk learners learn best through group activities and projects that promote and encourage self-discovery and understanding. The reason: They love attention, personal expression, and personal encounters.
Because they love receiving personal attention and encouragement, they look for opportunities to be helpful in class, get personal feedback, and share personal feelings and experiences with others.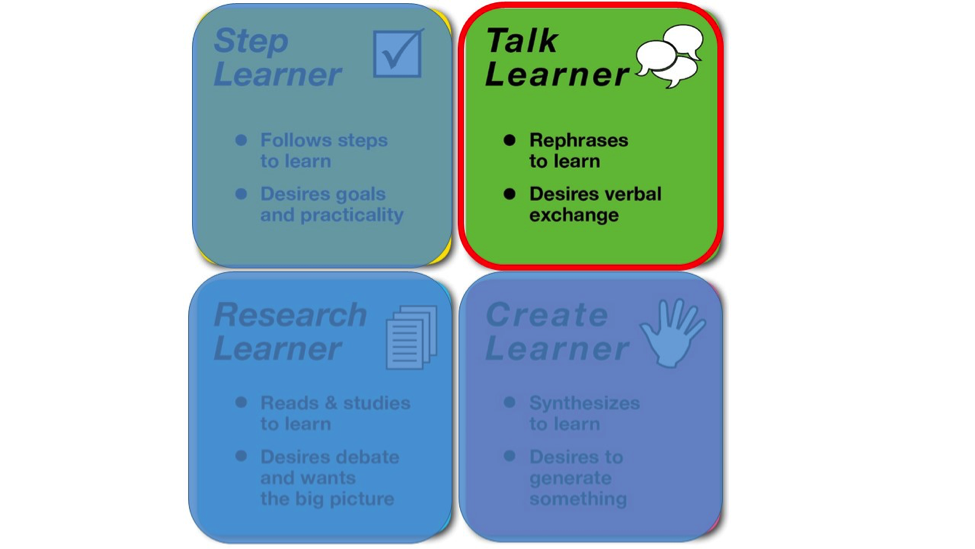 Talk learners do not like to work alone in silence for long periods of time. They really don't like emphasis on factual detail, or detail in general, including demanding routines. They also don't care for highly competitive games where someone loses.
Their favorite activities are those that focus on describing feelings, empathizing, responding, valuing, and role-playing. They also like to learn through the use of noncompetitive team games, learning circles, and peer-tutoring.
Here's a practical summary of how talk learners learn most effectively:
Talking with others periodically about ideas, experiences, concepts, and key points that are suggested throughout a presentation
Answering questions that require synthesis
Receiving guidance from the presenter through eye contact and directionals to see how to apply the information in their worlds
Composing and asking questions of the presenter and other audience members.
Remember, Research learners and Talk learners do not like learning with each other. Step learners and Create learners also do not like learning with each other. So, how do you teach all four of these styles simultaneously?
The answer is coming up in our next blog. . . .Stay tuned!
P.S. if you haven't found out your learning style yet, you can do that here.