Research learners love to read and study to learn. They desire debate and always want the big picture before, during, and after learning.
They prefer to learn by studying about ideas and how things are related. They love problem solving that requires collecting, organizing, and evaluating data. They enjoy arguing or debating a point based on logical analysis, but only after they have had a chance to plan and carry out a project of their own making and interest.
Research learners learn best from lectures, reading, logical discussions and debates, and projects of personal interest. (Many professors going for tenure fall into this research learner category).
They really like time to plan and organize their work. When they do this, they prefer to work independently or with other research learners, working with ideas that challenge them to think, explore, and master.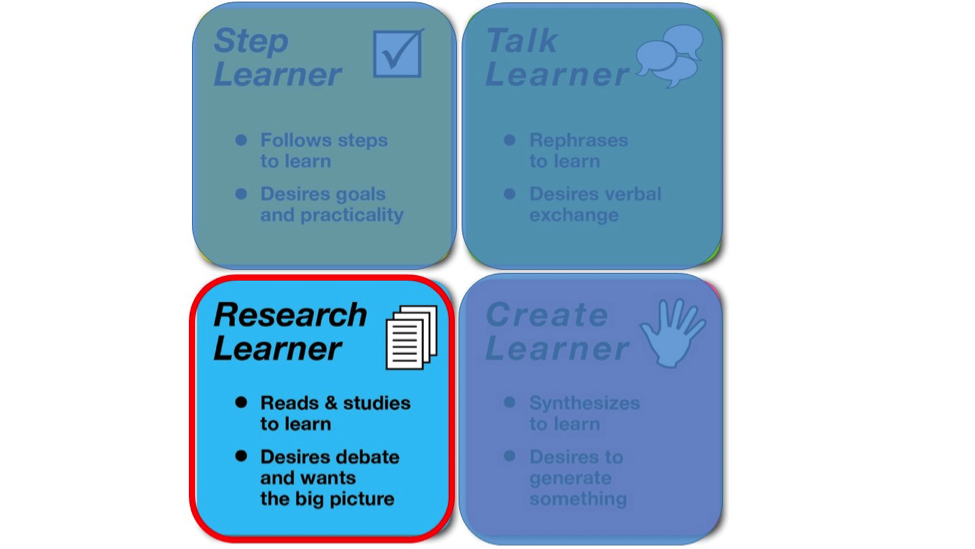 Research learners do not like routine or rote assignments, memorization, or concern for detail. They also dislike rigid rules and predetermined procedures.
Their favorite activities are those that focus on classifying, analyzing, evaluating, comparing, and contrasting. These include activities such as writing essays and forming concepts.
Here's a practical summary of how research learners learn most effectively:
Being led to arrive at their own understanding of key concepts, steps, and definitions.
Reading and researching on their own.
Having debates and discussion in small groups about the information presented to them.
Having follow-up discussions with the entire audience under the guidance of the presenter via steps 2 and 3 of the circle of knowledge. (More on that in our Bullseye program).
Viewing visual aids and writing about the presentation so they get the big picture.
In our next blog, we' ll talk about the Talk learning style (which, by the way, is the exact opposite of the Research learner).
Hint: Research learners and Talk learners do not like learning with each other (unless you know how to teach them simultaneously as we discuss in our very last blog coming later). Stay tuned!
P.S. if you haven't found out your learning style yet, you can do that here.