Dear fellow servants of the Word,
Our pluralistic society insists on blurring the differences between denominations under the guise of being more loving and tolerant. After being bombarded with this message for many years, we may all have loosened our grip a bit on why we are Lutheran. Some of the folks on our membership rosters may mistakenly view our heritage as more of a cultural thing: "My family tends to be Lutheran."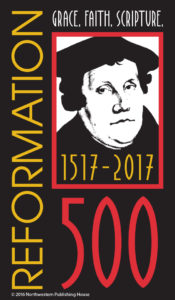 The celebration of the 500th anniversary of the Reformation gives us a wonderful opportunity to teach that our heritage as Lutherans is not a matter of culture but of standing on the chief doctrine of Scripture: justification by grace through faith. It encourages us to restudy the Scriptures, to grow in our understanding of what Jesus has done to right our broken relationship with God—we are justified because of Christ's sacrifice on the cross—and to grow in understanding of how God brought his church back to focus on that chief doctrine.
Two Bible studies from NPH will help your members grow in their appreciation of their Lutheran heritage and in their understanding of core Biblical truths. Both use the Reformation as the context for teaching these truths. Both include a video segment for each lesson, which will appeal to those who learn best visually. Altogether, the two studies can be used in a variety of venues, bringing the foundational truths of Scripture before a broad spectrum of God's people.
Reformation: Grace, Faith, Scripture
This course is unique among those offered by NPH in that it provides materials designed specifically for very brief lessons with a variety of potential uses. Each of the 12 lessons begins with a three- to four-minute video vignette taken from the 2017 Reformation celebration film, A Return to Grace: Luther's Life and Legacy. Questions are provided to guide a five-minute discussion based on the vignette. Materials are also provided for an expanded version of the study.
Potential uses include:
Church council meetings
Board and committee meetings
Women's group or men's group meetings
Youth group meetings and studies
Worship services—after the service or incorporated into the service for the benefit of all who attend
Try this convenient and flexible course to teach the history and core teachings of the Reformation in a variety of settings. Learn more.
A Return to Grace: Luther's Life and Legacy
This four-lesson study is designed to have the participants watch a 15-20 minute portion of the A Return to Grace: Luther's Life and Legacy film and discuss and apply what they saw.
The four lesson titles are:
Grace Hidden
Grace Rediscovered
Grace Defended
Grace Confessed and Enduring
Lead your congregation through an in-depth study of Luther's journey, learning how God worked through him and how God can work through you and your members. Learn more.
Both courses will guide participants through a study of the precious Scriptures that became the springboard for the Reformation of the church and the foundation for the Lutheran church today.
May God bless your work as you prepare a feast for the people he has placed under your care.
Because He Lives!
Ray Schumacher
Curriculum Product Editor
Northwestern Publishing House