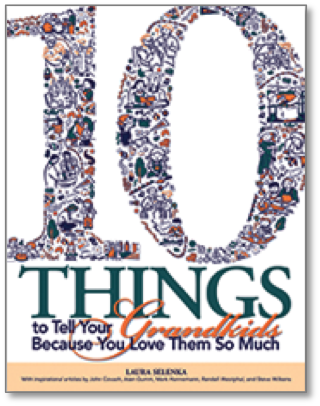 On Sunday, September 8, the United States celebrates Grandparents Day. Families across the country will take time to give thanks for their grandmothers and grandfathers and the years of guidance, kindness, and love they have shared together.
But why let the conversation stop there? 10 Things to Tell Your Grandkids provides field-tested Christian wisdom to grandparents looking to speak more confidently with their grandchildren about important topics of faith. Enjoy the introduction to the book below, simply titled "Having Conversations."
If you enjoy this preview, you can enter our giveaway for a chance to win a free copy of 10 Things to Tell Your Grandkids. Be sure to enter before the end of Grandparents Day on Sunday, September 8!
---
Having Conversations

One day my middle daughter told me, "I can tell that you interview people for your job."
I'm pretty sure this wasn't entirely a compliment, since it was said in a characteristically toneless teenage way, but I still partly took it as one. I'm in the thick of the "I'll take anything I can get" parenting days, and I like to remain optimistic.
I understand that part of what she was trying to say in that moment, after I had just picked her up from her school activity, was that I have a way of trying to keep the conversation going, while others may be in the habit of simply exchanging a polite, obligatory greeting upon their child's entrance into the car. I was asking follow-up questions. I was "in my groove."
Alas, my studious, athletic, introverted girl had already poured her all into everything and everybody else for the day, and she was not interested in a conversation with her mom. But that was okay.
She started out answering a few basic how-was-your-day questions, but quickly hit her limit. When she expressed her clear indication that she was not interested in talking any further and I respectfully backed off, it allowed us to comfortably enjoy the drive home together, and we still built a bridge.
You may be chuckling at me, remembering moments like this that you experienced with your own kids or even that you may have with your grandkids now. If so, then you are more than prepared to have conversations not only about daily happenings but also about spiritual topics. How do I know this without actually knowing you? If you are identifying with this, I think I am safe in assuming that you understand (1) the basics of a two-way conversation, and (2) by simple nature of the grandparent-grandchild relationship and what God's Word says, it is part of a grandparent's job to pass scriptural knowledge on to the next generation. You can trust that God will not abandon you without the means and strength to accomplish the things that he has asked you to do.
Consider the words of King David in Psalm 78 as he clearly lays out the importance of each generation personally making sure the coming generations, children and grandchildren, know how wonderful the Lord is:
My people, hear my teaching; listen to the words of my mouth. I will open my mouth with a parable; I will utter hidden things, things from of old—things we have heard and known,
things our ancestors have told us. We will not hide them from their descendants; we will tell the next generation the praiseworthy deeds of the Lord, his power, and the wonders he has done. He decreed statutes for Jacob and established the law in Israel, which he commanded our ancestors to teach their children, so the next generation would know them, even the children yet to be born, and they in turn would tell their children. Then they would put their trust in God and would not forget his deeds but would keep his commands. (verses 1-7)
Continually educate yourself in God's Word, stay prayerful, and initiate important conversations with your youth. Ask them what they think, let them ask questions, and respect them when they prefer to table the conversations for later. As one of the grandparents you'll meet in these pages said, "You can't preach to them. You have to watch them and know how much they will accept. When they get on the defensive, you have to stop. There is a certain percent they have to learn for themselves. We have a long, strong relationship and they know my love is unconditional." Keep building your bridges, and they will know that they can keep coming back.