Dear brothers in the ministry,
After spending over a quarter century serving as an editor at Northwestern Publishing House, I can safely say that there are few NPH and WELS publications—present as well as past—that I'm unfamiliar with. With this letter to you, I'm calling attention to one publication that had completely escaped my attention up until two or three years ago: a little devotional book called God Our Refuge.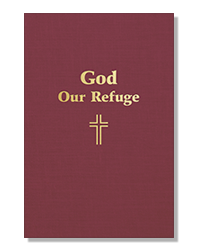 This gem of a book is a devotional aid that can also be a handy ministry tool. WELS Special Ministries originally produced the book several decades ago. It was thoroughly updated in 2000 to reflect NIV 1984 and Christian Worship. For many years, WELS Special Ministries distributed it to WELS members serving in the US Armed Forces. Pastors serving in Institutional Ministries also used and distributed the book. While those specific uses for the book may make it sound like the book is aimed at a rather "niche" audience, that is not the case at all.
The book is a devotional aid for all Christians, and it is not specific to an age or vocation. The contents are divided into six sections:
"Looking to Him" — Devotions — Brief orders for morning and evening devotions that include Luther's Morning and Evening Prayers, the Apostles' Creed, and more
"Seeking Him" — Meditations — Devotions on topics and occasions such as Baptism, Communion, trial and temptation, sorrow, doubt, prosperity, worry and want, sickness and health, and other circumstances
"Finding Him" — Gospel-Readings — Scripture readings from the four gospels
"Asking Him" — Prayers — Prayers for a variety of occasions and circumstances
"Praising Him" — Hymns — A selection of 24 hymns
"Abiding in Him" — Spiritual Treasures — Most of Luther's Small Catechism, as well as texts from the Ordinary of the historic Christian liturgy
The smaller size of the book (4 x 6 inches, 148 pages) makes it easy for people to take with them almost anywhere they may go. The attractive price ($3.99, with quantity discounts available) lends God Our Refuge well for congregations to purchase and give as gifts to new members, adult and youth confirmands, hospitalized members, nursing home residents, and others.
Even though this little devotional book has been around for many years, its content remains relevant to all Christians today. Take a look inside here. NPH is happy to keep making God Our Refuge available so that more and more of God's people may become familiar with it and use it as a part of their devotional lives.
With you in Christ's service,
Curtis Jahn
Vice President of Publishing Services
Professional Books Editor
Northwestern Publishing House