Dear Fellow Musician,
"I will sing the LORD's praise, for he has been good to me" (Psalm 13:6).
We rejoice each year in the gifts God gives to his church on earth for the proclamation and praise of his goodness, in particular the gifts of music and faithful composers and arrangers. The last few months have seen the release of several new music products. One is from the newest and growing series that NPH offers, Hymn Settings for the Contemporary Liturgical Ensemble. Named for their hymn tune, these arrangements for piano, guitar, and additional instruments—sometimes identified as a "contemporary ensemble"—are designed to accompany the singing congregation. With the assistance of song leaders, the congregation can sing right out of the hymnal. "Erhalt Uns, Herr" serves as the tune for three hymns in Christian Worship: A Lutheran Hymnal. Other arrangements in the series include the tunes "Nun Freut Euch" and "Sieh, Hier Bin Ich." For a single price, each arrangement comes with a full score and parts for instrumentalists. Full previews are available at nph.net, and more are planned for future release.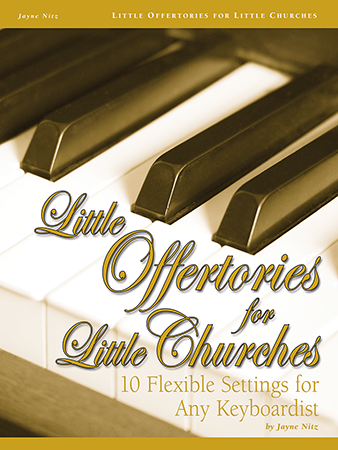 Our keyboard release this year is Little Offertories for Little Churches. Designed for flexibility, each setting in this collection includes optional cuts for those moments in the service when the length of music needed varies. Some are designed more for organ, while others are more for piano. Some also include solo instruments. With so much variety, we believe you will find settings within this collection to fit your specific situation.
Selections were also added to both the children's choral series and the adult choral series, ranging from unison in children's choral to full concertatos in adult choral. Many titles in our children's choral series also work well for small adult choirs. Be sure to explore all of our newest choral releases at nph.net.
We are always interested in your feedback! Please e-mail me at any time to share your questions and comments about worship music. God's continued blessings as together we faithfully proclaim his precious truths in song!
Your fellow servant in Christ,
Jeremy Bakken
Director of Worship and Sacred Music
Northwestern Publishing House