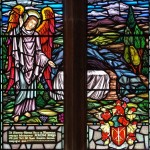 Easter Joy Over Sins Forgiven
In that day you will say: "I will praise you, O LORD. Although you were angry with me,
your anger has turned away and you have comforted me." (Isaiah 12:1)
Above all the Sundays in the Christian calendar, this one stands alone as the greatest day of joy for Christians. The good news delivered by angels at Jesus' empty tomb still fills our hearts with rejoicing. Through faith's eyes we again share the experience that John described in his gospel: "The disciples were overjoyed when they saw the Lord" (20:20).
But perhaps what would become the disciples' greatest joy did not even enter their minds on that first Easter Sunday. Yes, their friend and teacher was alive again! They were understandably happy to see him and relieved that death did not have the final word. But fullness of joy would be found in the meaning of Jesus' resurrection in God's plan of salvation.
Prior to Good Friday, Jesus had told his disciples that he would suffer, die, and rise again. In fact, he had said that those things must happen the way he described them. But why did Jesus have to suffer and die? He let his Father's righteous wrath against sin fall on him. Willingly the sinless One received the just judgment that all sinners deserve. That was the answer to the question that Jesus himself asked while hanging on the cross: "My God, my God, why have you forsaken me?" Jesus was forsaken because a just and holy God cannot tolerate sin. He must punish it. God let himself be angry with his sinless Son so that he could turn his anger away from us. He could comfort us with forgiveness instead. Easter fills us with joy when we remember that Jesus' resurrection assures us that we are forgiven. The apostle Paul summarized this good news in Romans 4:25, "He was delivered over to death for our sins and was raised to life for our justification."
Through the Spirit's power, Isaiah looked ahead to "that day" when God's people would praise him because his "anger has turned away" and they would be comforted by him. Through God's eternal plan to save us, that day has come and is here! This Easter Sunday we are joyful because Jesus' resurrection proves that our sins are forgiven. The empty tomb declares that a holy God is no longer angry at us for the evil we have thought, done, and said. That joyful news now comforts us in all our troubles. We have Easter joy over sins forgiven.
Prayer: Dear risen Lord Jesus, fill me with confidence that through your suffering,
death, and resurrection my sins are forgiven. Amen.
---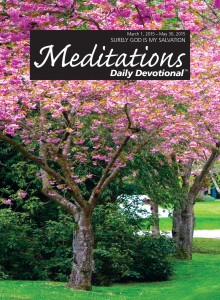 Taken from Meditations Daily Devotional™, Vol. 58, No. 2, edited by Curtis A. Jahn. © 2015 Northwestern Publishing House. All rights reserved.
Image credit: "Parish Church of St Michael, Mitcheltroy, Window" by Keith Moseley is licensed under CC BY-SA 2.0.