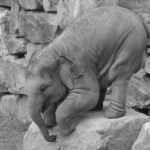 Haven't read Part One yet? Find it here.
Emperors and Elephants
Someone once observed, "It only takes one person to produce speech, but it requires the cooperation of all to produce silence."36 History has its share of corporate silences. The Holocaust, for example, will not be remembered so much for the extraordinary numbers of people murdered in gas chambers as it will be remembered for the silent conspiracy that permitted such an unthinkable thing to happen.