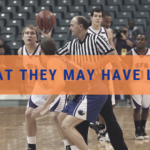 March Madness is a season filled with excitement and hope for college basketball players and fans alike. Teams give it their all to earn their next win in the NCAA Division 1 Men's Basketball Tournament.
Written for Christian educators, the devotional That They May Have Life reminds you of another journey to victory that we remember during springtime: Christ's walk to the cross and his ultimate resurrection. This special Lenten message is for everyone, even if you are not a sports fan or school teacher.
---
Jesus said, "Now is the Son of Man glorified and God is glorified in him. If God is glorified in him, God will glorify the Son in himself, and will glorify him at once. My children, I will be with you only a little longer. You will look for me, and just as I told the Jews, so I tell you now: Where I am going, you cannot come. A new command I give you: Love one another. As I have loved you, so you must love one another." John 13:31-34
During this time of the year, followers of college and high school basketball get caught up in tournament fever. It is often called March Madness or the Road to the Final Four. It is a time of the year when sound bites and motivational sayings are everywhere. It is exciting because every game could be a team's last. There is a sense of unpredictability that magnifies every shot, every game, and every coaching move.