On Sunday, September 9, the United States celebrated Grandparent's Day. Families across the country thanked their grandmothers and grandfathers for their years of guidance, kindness, and love.
C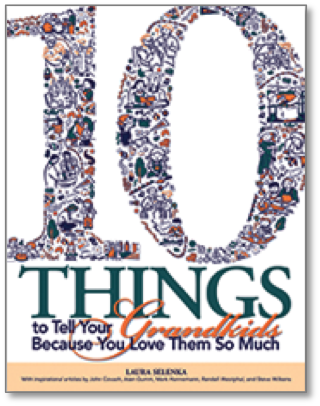 hristian grandparents face an incredible challenge and awesome opportunity. In a world that is hostile to faith, they must continue to share the good news of Jesus Christ with the younger--and much different--generations.
Whether you are a grandparent or know one who could use some encouragement, check out 10 Things to Tell Your Grandkids. This new title provides field-tested Christian wisdom to grandparents looking to speak more confidently with their grandchildren about Jesus. The book is available for purchase at www.nph.net.
Through tomorrow, September 12, you can even enter our giveaway for a chance to win a free copy of 10 Things to Tell Your Grandkids. Click here to enter.
No matter what circumstances Christian families face, the Lord promises to be with them. Below, enjoy a brief excerpt from 10 Things to Tell Your Grandkids about the amazing impact and value of God's promises for both grandparents and grandchildren.
---
God Keeps His Promises
There are times when we struggle with doubts and
fears, when the promises of God don't seem to
apply to us. King David was in that kind of struggle
when he wrote Psalm 13. Hear his frustration when
he says, "How long must I wrestle with my thoughts and
day after day have sorrow in my heart?" (Psalm 13:2).
Our grandchildren need us to be honest like that with
them about life. It won't do to gloss things over and pretend
there are no concerns.
We also need to give them hope. Consider this allpurpose
promise found in Romans 8:28: "We know
that in all things God works for the good of those who
love him."
Don't we know the truth of that from our own experience
of seeing him keep his promises to us for the many
decades of life he has given us? There was a time early in
my ministry when this passage was of great help. I had
to have jaw surgery. It required that I stay in the hospital
for five days. There were many weeks after that of painful
recovery.
This took time and energy away from my work as a pastor.
Yet, reflecting on it later, I realized the experience
actually helped my ministry. I could better relate to
members I visited in the hospital. My devotional messages
with them were enriched because of when I myself
had needed to rely on God to pull me through.
Throughout my life I see my loving heavenly Father
keeping this promise to work all things for my good.
I see it in how he gave me a loving Christian wife and
children and, yes, grandchildren. It is there in the way
he has always provided for my needs and all sorts of luxuries
beyond the actual needs. Above all, he gave his one
and only Son to redeem me from my sins. There is such
joy in looking forward to being in our heavenly home,
thanks to Jesus.
These are things we want to communicate to our grandchildren,
aren't they? Troubles will come and tempt our grandchildren
into doubt: deaths, military deployments, a parent
losing a job, not making the team, being bullied, etc. The
world won't point them to God's promises—the world is
spinning wildly away from the truths the Holy Spirit reveals
in Scripture. We Christian grandparents need to be doing
all we can so those we love will keep trusting in God's promises.
We don't want to put this off.
I wonder if you couldn't make a list right now of two
or three times in your life when God kept his promise
and surprised you by the way things worked out for
your good. . . .
Do your grandchildren know those stories about you?
There are obstacles. It is easy to sing "Jesus loves me"
with a child small enough to sit on your lap. It is more
difficult as they get older to talk about God's promises.
Teens tend to tighten up. They may be respectful and
polite but keep their thoughts to themselves.
Maybe you could loosen them up a bit with a question.
"What are some promises of God you've been thinking
about lately?" or "Did I ever tell you about that time
I was having doubts about one of God's promises?" or
"Do you know about the time in my life when a promise
of God surprised me?"
Above all, let them know how important to you God's
promise is about Jesus being our Savior from sin. Our
goal is to bring them to the place King David got to
when he concluded Psalm 13 with such joy and confidence:
"I trust in your unfailing love; my heart rejoices
in your salvation" (verse 5). Just as David in this psalm
went from day after day of sorrow to the heights of joy,
so can we all. Encourage your grandchildren whenever
you can to trust in God's unfailing love. His plans for us
are flawless. God always keeps his promises.
Dear Lord Jesus, help me to light the way for my grandchildren
with the light you give us in your Word. Amen.