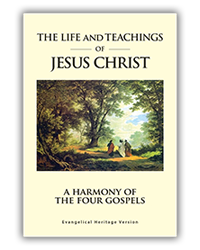 The Sermon on the Mount is one of the most memorable gatherings recorded in God's Word. Just as the people surrounded Jesus to hear him preach, you too can gather with others around your Savior and hear his teachings this fall.
The Life and Teachings of Jesus Christ is a new title from Northwestern Publishing House that combines the four gospels into one narrative account. Below, you can read a sample from the book recounting a portion of the Sermon on the Mount.
May this passage and every word of our Savior Jesus be a blessing to you and your loved ones this season.
---
Chapter 7 - His Sermon on the Mount
Jesus Teaches About Prayer and Priorities
Jesus was praying. When he finished, one of his disciples said
to him, "Lord, teach us to pray, just as John also taught his disciples."
He said to them, "When you pray, do not babble like the heathen,
since they think that they will be heard because of their many
words. However do not be like them, because your Father knows
what you need before you ask him. Therefore pray like this: 'Our
Father in heaven, hallowed be your name. Your kingdom come. Your
will be done on earth as it is in heaven. Give us today our daily bread.
Forgive us our debts, as we also forgive our debtors. And lead us not
into temptation, but deliver us from evil.'
"Indeed if you forgive people when they sin against you, your
heavenly Father will also forgive you. But if you do not forgive people
their sins, your Father will not forgive your sins.
"Whenever you fast, do not make yourself look sad like the hypocrites,
for they disfigure their faces to show everyone that they are
fasting. Amen I tell you: They have received their reward. But when
you fast, anoint your head and wash your face, so that it is not apparent
to people that you are fasting, but only to your Father who sees
what is unseen. Then your Father, who sees what is done in secret,
will reward you.
"Do not store up treasures for yourselves on earth, where moth
and rust destroy, and where thieves break in and steal. But store
up treasures for yourselves in heaven, where moth and rust do not
destroy, and where thieves do not break in and steal. Because where
your treasure is, there your heart will be also.
"Your eye is the lamp of the body. So then if your eye is healthy,
your whole body will be full of light. But if your eye is bad, your
whole body will be full of darkness. Therefore, see to it that the light
that is in you is not darkness. So if your whole body is full of light,
without any dark part, it will be completely full of light, as when a
lamp shines on you with bright light. If the light that is in you is darkness,
how great is the darkness!
"No one can serve two masters. Either he will hate the one and
love the other, or he will be devoted to the one and despise the other.
You cannot serve both God and mammon."
Jesus said to his disciples, "For this reason I tell you, do not
worry about your life, about what you will eat, or about your body,
what you will wear. Is not life more than food and the body more than
clothing? Consider the ravens, the birds of the air. They do not sow or
reap. They have no warehouse or barn. And yet your heavenly Father
feeds them. Are you not worth much more than they?
"And which of you can add a single moment to his lifespan by
worrying? Since you are not able to do this little thing, why do you
worry about the rest? Consider how the lilies of the field grow. They
do not labor or spin, but I tell you that not even Solomon in all his
glory was dressed like one of these. If this is how God clothes the
grass of the field, which is alive today and tomorrow is thrown into
the furnace, will he not clothe you even more, you of little faith?
"So do not worry, saying, 'What will we eat?' or 'What will we
drink?' or 'What will we wear?' For the unbelievers chase after all
these things. Certainly your heavenly Father knows that you need
all these things. But seek first the kingdom of God and his righteousness,
and all these things will be added to you as well. So do not
worry about tomorrow, for tomorrow will care for itself. Each day has
enough trouble of its own.
"Do not be afraid, little flock, because your Father is pleased to
give you the kingdom. Sell your possessions and give to the needy.
Provide money bags for yourselves that do not become old, a treasure
in the heavens that will not fail, where no thief comes near and
no moth destroys. For where your treasure is, there your heart will
be also.
"Stop judging, so that you will not be judged. Do not condemn,
and you will not be condemned. Forgive, and you will be forgiven.
Give, and it will be given to you. A good measure pressed down,
shaken together, and running over will be poured into your lap. In
fact, with whatever standard you judge, you will be judged, and with
whatever measure you measure, it will be measured to you."
He also told them a parable: "A blind man cannot guide a blind
man, can he? Won't they both fall into a pit? A disciple is not above
his teacher, but everyone who is fully trained will be like his teacher.
Why do you focus on the speck that is in your brother's eye, but fail
to notice the beam that is in your own eye? Or how can you tell your
brother, 'Brother, let me remove the speck from your eye,' when, in
fact, you have a beam in your own eye you do not see? Hypocrite!
First remove the beam from your own eye, and then you will see
clearly to remove the speck from your brother's eye.
"Do not give dogs what is holy, and do not throw your pearls to
pigs. If you do, they will trample them under their feet and turn and
tear you to pieces."
He said to them, "Suppose one of you has a friend, and you
go to him at midnight and tell him, 'Friend, lend me three loaves of
bread, because a friend of mine who is on a journey has come to me,
and I do not have anything to set before him.' And the one inside
replies, 'Don't bother me. The door is already locked, and my children
and I are in bed. I can't get up and give it to you.' I tell you, even if
he will not get up and give him anything because he is his friend, yet
because of his bold persistence, he will get up and give him as much
as he needs.
"I tell you, keep asking, and it will be given to you. Keep seeking,
and you will find. Keep knocking, and it will be opened to you.
For everyone who asks receives, and everyone who seeks finds, and
to the one who knocks, it will be opened.
"What father among you, if your son asks for bread, would give
him a stone? Or if he asks for a fish, would give him a snake instead
of a fish? Or if he asks for an egg, would give him a scorpion? If you
then, though you are evil, know how to give good gifts to your children,
how much more will your heavenly Father give the Holy Spirit
to those who ask him?
"Enter through the narrow gate, for wide is the gate and broad
is the way that leads to destruction, and many are those who enter
through it. How narrow is the gate, and how difficult is the way that
leads to life, and there are few who find it.
"Watch out for false prophets. They come to you in sheep's
clothing, but inwardly they are ravenous wolves. By their fruit you
will recognize them. You do not gather grapes from thorn bushes or
figs from thistles, do you? So then, every good tree produces good
fruit, but a bad tree produces bad fruit. A good tree cannot produce
bad fruit, and a bad tree cannot produce good fruit. Every tree that
does not produce good fruit is cut down and thrown into the fire. So
then, by their fruit you will recognize them.
"The good person brings what is good out of the good stored in
his heart, and the evil person brings what is evil out of the evil within.
To be sure, what his mouth speaks flows from the heart.
"Why do you call me, 'Lord, Lord,' and do not do what I say?
Not everyone who says to me, 'Lord, Lord,' will enter the kingdom of
heaven, but only the one who does the will of my Father in heaven.
Many will say to me on that day, 'Lord, Lord, did we not prophesy in
your name and drive out demons in your name and perform many
miracles in your name?' Then I will tell them plainly, 'I never knew
you. Depart from me, you evildoers.'
"Everyone who comes to me and hears these words of mine and
does them will be like a wise man building a house who dug down
deep and laid a foundation on bedrock. The rain came down, the
rivers rose, and the winds blew and beat against that house, but could
not shake it. It did not fall because it was founded on bedrock. But
everyone who hears these words of mine but does not do them will
be like a foolish man who built his house on sand without a foundation.
The rain came down, the rivers rose, and the winds blew and
beat against that house, and it fell immediately—it was completely
destroyed."
When Jesus finished speaking these words, the crowds were
amazed at his teaching, because he taught them as one who had
authority, and not like their experts in the law.