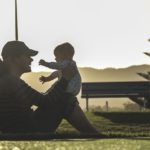 In the devotional Moments in the Word for Moms, author Melissa M. Berg introduces herself to her readers with this heartwarming message. She recalls a few treasured memories that many Christian mothers can relate to, especially as they spend time with their families on this upcoming Mother's Day. Most importantly, she recognizes that—in moments of both joy and trouble—she and her children and every Christian family can rely on the loving message of salvation through Jesus Christ.
---
Being a mom has brought me many moments of joy. I think back to the nights when I laid my little ones back in their cribs, milk bubbles and contented sighs still on their tiny lips. I remember the day when my older daughter first belted out the "Alleluia" song from the liturgy during church, the drive when my son sang a song about his two best friends, Tigger and Jesus, and the time when my younger daughter asked God to heal the scrape on her knee, adding the words "if it is your will" in her sweet little voice.
Yet amid the joyous times, there also have been many days when I've felt less than joyful.There were the days of struggling to nurse a new baby with two arguing siblings close by; the days of mud, dirt, and destruction taking over the house; and the days when I lost sight of the joy amid my worries, doubts, fears, and other sins. In all of those days, God was with me, blessing me through the many happy moments that stay treasured in my heart and blessing me during the days of struggle and sorrow as he drew me closer to himself through his Word. When my strength was sapped by the needs of my children, the demands of those around me, and the weight of my own sins, I read again the words the Lord left for his children. His Word lays out clearly the sin that is in each of our hearts. It tells us of our utter inability to perform a single task that might rid us of that sin, and it reveals our heart's complete lack of desire to do so.
The Word tells us of the One who also was daily surrounded by those seeking his attention and care but who, as God himself, remained without sin. Jesus took the weight of my sins, your sins, and the sins of the entire world to the cross, paying the price for our guilt and giving us the sure hope of heaven. What a blessing it is that God has given us his Word in which he lays out his merciful thoughts and actions toward his children!
---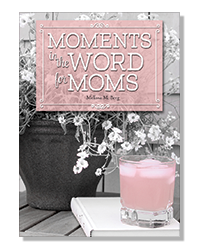 From Moments in the Word for Moms, by Melissa M. Berg. © 2016 Northwestern Publishing House. All rights reserved.
Main article image credit: thedanw, Pixabay (used under Creative Commons CC0)