Dear Brothers in Christ,
As you are reading this post, it will already be December. For pastors that means Advent and the getting-ready-for-Christmas season. Even so, I would like to take the opportunity to talk a little about Reformation 500. Such an anniversary comes along only once every five hundred years (obviously), and because this is such a milestone anniversary, we will think about, celebrate, and thank God for the blessings he has given us through the Reformation--but not only on one day or for one month in the fall of 2017. More than usual, the Reformation and what it means for us will be on our minds throughout the entire next year.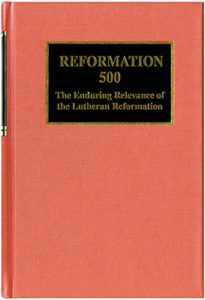 The thinking, celebrating, and thanking we will do together with God's people will reach it's high point, of course, with special services, music, and sermons. Perhaps, for your church, it will also involve Bible classes that delve into various Reformation-related topics; a Reformation-focused evangelism effort; and perhaps an invitation to church members, neighbors, friends, and inquirers to view the new Luther film that will be broadcast on PBS next fall (or the "WELS version" of the film shown at your church).
There is one aspect of the Reformation 500 observance that we pastors especially will want to take advantage of this next year, and that's in the personal "Thinking and Thanking" area. To help us do that, the WELS Reformation 500 Committee, together with Northwestern Publishing House, has developed and published a Festschrift volume of essays written especially with pastors in mind. The book came out earlier this fall and is simply titled Reformation 500: The Enduring Relevance of the Lutheran Reformation.
This commemorative volume features ten essays written by WELS scholars on a variety of topics related to Luther and the Reformation. To say something about all ten essays here would make this post too long. To call attention to only a few would run the risk of giving the appearance that the essays not mentioned are not as worthy of consideration. For your convenience, here is a link to the table of contents page, which lists all the authors and the titles of their essays. In general, I can say that whatever the topic, all of the authors demonstrate not only solid scholarship and writing but also had today's parish pastors clearly in mind as they wrote their essays--all to help you as you think about and thank God for 500 years of Reformation blessings in the year 2017.
Wishing you all the best from the Lord in this special season!
In Christ,
Curt Jahn
Professional Books Editor
Northwestern Publishing House