Did you blink? It may seem as if you were just driving home from the hospital—joy, panic, and fear coursing through you. After only 48 hours, the staff had nudged you out. You needed a license to drive the car home, but only a signature to take this person home. Bye! Go raise a child!
As parents, we take classes, read books, research pediatricians, and find playgroups. We watch our children play outside and teach them "stranger danger." As Christian parents, we take God's charge seriously to "train a child in the way he should go" (Proverbs 22:6a). We baptize our children and teach them God's Word. We attend to their physical and emotional needs, all while also attempting to impart knowledge and wisdom. Parenting can be overwhelming!
We finally embark upon the huge milestone of entering kindergarten. We've invested all this time, and we hope we've done enough. But will my child cry when I leave? Should I have taught her how to skip count—can she even skip? Will he be afraid to ask for help or to go to the bathroom? Will the teacher think my child is a "troublemaker" and not see the potential in him? What if she doesn't eat her fruit, or worse, throws away her sandwich and is hungry all day? Maybe he's too immature yet. We worry. We despair. And we are brought to our knees.
We kneel before the master teacher
When the anxieties of life overwhelm us, we go back to the author of life, the master teacher. As we entrust our little ones into the care of a teacher, we entrust our anxieties to the hands of the Lord. It is he who gave us these children, his children. He is just as concerned about them and has a vested interest in their well-being.
So, when our worries cause us to lose sleep, when we stress over carrying out this awesome responsibility—we let the master teacher reassure us. He reminds us in Psalm 121: "My help comes from the LORD, the Maker of heaven and earth. . . . Indeed, he who watches over [you] will neither slumber nor sleep" (verses 2a,4). God encourages us when our fears and apprehensions rise and hijack our thoughts: "Cast all your anxiety on him because he cares for you" (1 Peter 5:7). We kneel before the master teacher, tossing our uncertainties on his shoulders.
Knowing Jesus is in control, hearing of his inspiring love and concern for us and our children, we can go forward into any circumstance, being certain and sure. How? God has equipped us: "All Scripture is God-breathed and is useful for teaching, rebuking, correcting and training in righteousness, so that the man of God may be thoroughly equipped for every good work" (2 Timothy 3:16,17). As we raise our children, God teaches us. God unfailingly supplies his Word, knows and provides for our needs, and promises to hear our prayers.
Now, knowing that God is there for us and has promised to equip us, we boldly go and set a wonderful example for our children— we do our homework.
Do the homework
Hours. Days. Years. We've given our time, walking nocturnal babies, cajoling them to eat, holding them, wiping their tears, and keeping them safe in the yard. Abruptly, we lose that control. How do we prepare and cope as we send our children off to school?
Parenting will always include on-the-job training, but whenever possible we take proactive measures— we do our homework. A good first step is to make a running list of questions for the staff or teacher. Visiting school is a little like a trip to the doctor's office. We try to grasp a barrage of information and, in the process, forget our few questions until we are out the door. These written questions will be helpful when meeting the teacher or visiting the school campus.
A visit to a prospective school offers insights into how it's run. We can acquaint ourselves with the physical building and grounds. We can walk the building and become familiar with the setting that will become like a second home for our children. We can search out the important places— classrooms, bathrooms, and playground. If possible, we'll try to visit while classes are in session. We observe the routine and let our children see this, so they can imagine and look forward to themselves in a similar position the next school year. We meet the principal and secretary, pivotal communication links. We may obtain a handbook to read and grasp the school policies. In the weeks before school begins, we translate the policies into the language of real life for our student. This allows the guidelines and staff to become normal, internalized parts of our and our child's mental picture of "school."
Then, as permitted by the school, we meet the teacher. The setting for this visit might vary from school to school. For instance, teachers in some schools still make home visits. This is a personal way to meet and connect with your teacher. She will have the opportunity to discuss procedures and expectations, and you will have the chance to ask your questions. If your school doesn't offer this option, find out if there is a kindergarten roundup, an open house, or any other special opportunity to establish a rapport with your child's teacher. You want to build a positive, open relationship with her. Ask how you can communicate best with her. Some teachers prefer e-mails, some phone calls, and some allow time to chat before or after schooltime. Find out her preference and whether she has a specific time when she checks and returns messages. Pray for your teacher, and if the opportunity is appropriate, let her know that. Teachers are people too, and building up and encouraging them shows your thankfulness and support. She and other parents will be great resources.
In the weeks prior to the beginning of school, establish a routine. A consistent routine provides the scaffolding for a successful day. Determining an appropriate bedtime, laying out clothes, and packing lunches the night before help maintain order. A tantrum in the morning will only be exacerbated if a child is tired and Mom and Dad are wrestling with breakfast, finding clothes, and packing lunches. A routine forges a comforting boundary and helps keep everyone on time— which avoids disruption or embarrassment from tardiness. Set the tone by having family devotions at breakfast or by playing Christian music in the car. Model and practice what foods should be eaten at snack time versus those eaten for lunch. Take a dry-run drive to school, building in time for school traffic.
After school your child may be tired and worn out. Recover by having a snack, throwing a ball outside, or reading a book together. Create a habit of asking him or her to share a positive and negative aspect of the day. This practice establishes communication, allowing you to see school from your child's perspective. It also gives you, the parent, valuable teaching moments to help your child view life in the context of God's mercy in Christ.
The life of a parent is touched by joys and anxiety. Both are part of the first day of school. But if we kneel before our Lord in prayer and listen to his comforting promises, and if we have done our homework, the joys will far outweigh the anxiety.
---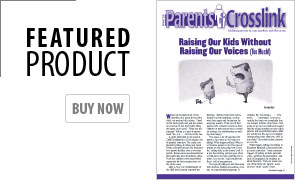 By Amy Vannieuwenhoven, from Parents Crosslink © 2012 Northwestern Publishing House. All rights reserved.
Amy works part-time at Northdale Lutheran School in Tampa, Florida, and full-time with her husband, Pastor Charlie Vannieuwenhoven, raising their four children.